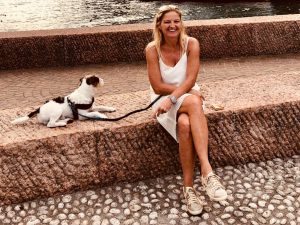 I was born in Cork, Ireland and raised in Germany.
My interest in psychology and mindset began quite a few years ago, after moving to Thailand with my husband and daughter, where we lived for five years.
I undertook a great deal of research, which included studying the works of Dr. Joe Dispenza, Esther Hicks, Dr. Wayne Dyer and Eckart Tolle amongst others.
I discovered the power of our thoughts and the influence they can have on our health and being.
This awareness changed my life completely.
It was solely due to the teachings I had learnt, that years later I managed to overcome the most devastating situation that I had ever experienced in my life.
After giving birth to my second daughter I moved back to Europe alone with my two girls to start a new life. I completed a course of holistic healing for psychology constantly searching for the ultimate quick fix healing method. It was then I came across RTT Rapid Transformational Therapy by Marisa Peer.
Years later I was confronted with so many challenges.
The love of my life had left me, I was heartbroken. I had lost my beautiful home and found myself as a single mother with two little girls and very high debts.
I was devastated and did not see any way out of this situation.
Why did this happen to me? I am the most positive woman who always expects the best in life. I felt depressed and numbed by the responsibility not only for the situation that I found myself in but also for my two daughters.
Driven by my duty to take care of them I had no choice but to function.

At one point however, and I remember exactly when and where this feeling occurred, I felt a knowing deep down inside, that all this was happening for a bigger reason. I graduated with Marisa Peers RTT in London which was life changing. Somehow, I knew this was a stepping stone which would lead me to a better life.
Today I have a job that does not feel like work. I get to travel the world and meet a lot of interesting people and am now reveling in the opportunities that I have to help others to reach their goals.
My mission is to use the combined knowledge gained from both, my in-depth studies of the power of mind and thoughts, along with my lived experiences to help guide and advise people on their path.
It can be so easy once you make that decision to take your power back, deal with life's challenges and set new targets.

Contact me for a FREE discovery call today
Yours Sonia Maria Horn